Baywave Surfing Experience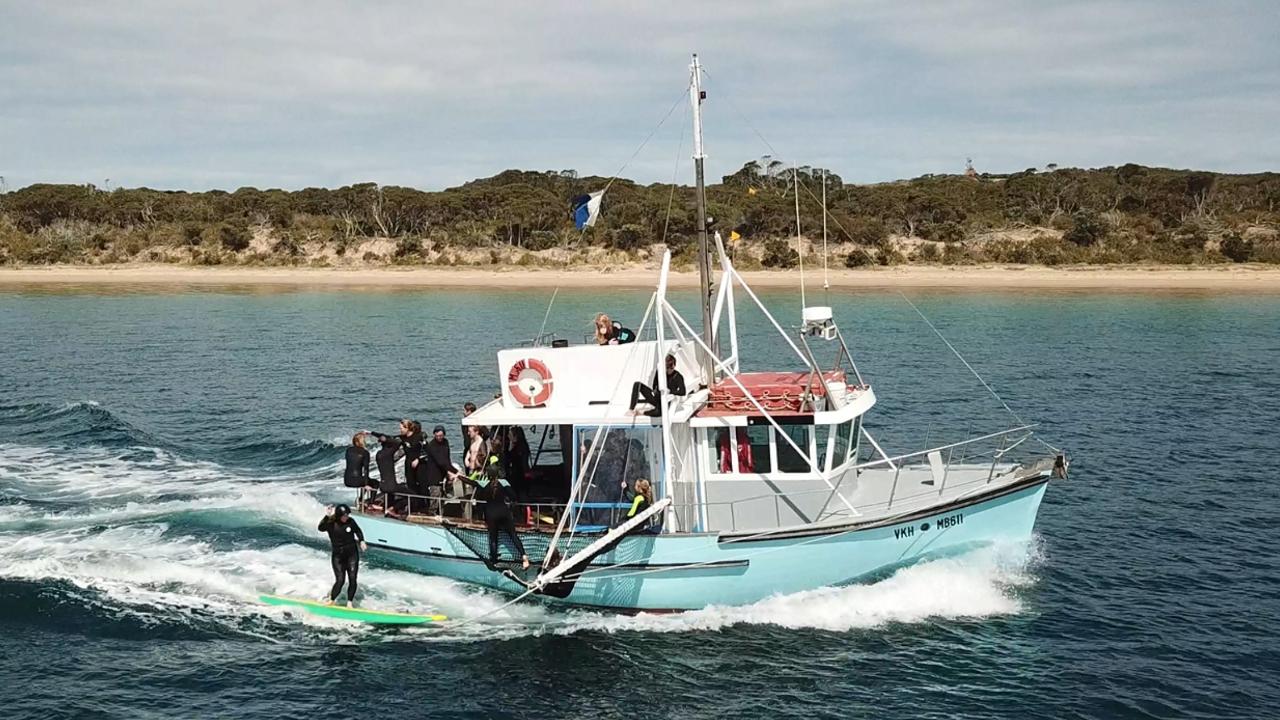 Duration: 150 Minutes (approx.)
Location: Queenscliff
Product code: BW
The Bay Wave
Rates: 2.5 hours Bay Wave surfing lesson (inclusive of all equipment and surfing tuition).

Adults $150
Child $70
Spectators $50
The Bay Wave is the easiest way to learn to surf. We are so confident you will stand up and surf, we offer a stand and surf the first trip or the next surf trip is free guarantee!
The Bay Wave is Victoria's first and only man made wave learn to surf experience. It is created as our 11 meter timber vessel cruises through the water. The wave breaks right beside the boat and will take you on a ride that can last for minutes at a time covering kilometres. You will be surfing so close to your loved ones that you will be able to chat with them as you surf. Being this close allows the qualified instructors to teach you the correct technique in real time while you surf.
The surf lesson begins just a short drive from the start of the Great Ocean Road at Queenscliff Harbour, where you will be greeted by our friendly and professional team. You will then be fitted out with a warm and buoyant wetsuit and provided with expert learn to surf instruction while we head out from the harbour.
Once on the water, we will find the perfect sheltered location for your surf lesson and provide a comprehensive live demonstration and instruction.
Entering the water is an easy step down off our boom net hammock and straight onto the board waiting below. An Instructor will hold the board steady and in position on the wave while you take as much time as you need to get to your feet, once on your feet and comfortable the instructor will slowly let go of the board and you will gently glide into the wave and begin surfing freely.
Surfing this wave can last minutes at a time and it is very common for people to catch the longest ride of their life, and then step back onto the boat without even getting their hair wet!
If you do fall, not to worry, an instructor will be straight into the water with you. They will escort you back to the surfboard where you can both sit on the board above the water while the vessel turns around to collect you just a few moments later.
This is a must do experience for everyone wanting to surf. If you have tried and been unsuccessful in the past but surfing a wave still sits on your bucket list then this is the experience for you!
Please note: There is a $5 environmental levy included as part of the price of this tour. This levy helps us help our oceans and will be put towards any of the following programs and research through our partnership charity SOEL (Southern Ocean Environmental Link):
Plastic recycling education programs – funding will help us purchase more plastic recycling machinery for use within our recycling programs, facilitate our education sessions for school age children, and go toward community plastic reduction efforts.
A Port Phillip Bay wide dolphin population study, utilising machine-based learning marine identification camera systems.
Port Phillip Bay Seal Watch program – mapping the movement trends of Australian Fur Seals within Port Phillip Bay Haul Out sites.
Marine pest (Northern Pacific Seastar) eradication study utilising machine-based learning identification systems.
An investigation into the effects of ecotourism experiences on young people's awareness and attitude toward marine conservation.
We will also use these funds to invest in an accessibility hoist for Queenscliff Harbour, and in doing so create the first readily available accessibility point for marine tourism within Port Phillip Bay.
Visit www.soel.org to find out more or contribute further.