Hyper Ion Mako Mask (Adult Sizes)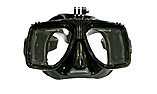 Hyper Ion Mako Mask (Adult Sizes). Upgrade from our rental gear on the tour and change to your very own Hyper Ion Mask that you get to keep after the tour for personal use too! Whether The Hyperion Mako is a twin lens dive mask with an integrated GoPro mount. The black mask has a low internal volume and super comfortable soft silicone skirt. The low volume interior of the mask makes clearing out water extremely easy. The dark mask skirt keeps out the glares of the sunlight and keeps your vision focused. The perfect mask for snorkelling, scuba diving, free diving and spear fishing!
The integrated GoPro mount, gives you a hands-free option to record all your dives exactly as you see them. Simply mount your GoPro or other suitable underwater action camera onto your mask and start recording.
Features:
Extremely low volume
Tempered glass lenses
GoPro mount
Quick-adjust mask straps